This is what I found on FOXNEWS.COM:
PHILADELPHIA — For Sam Hojnowski, her freshman year at La Salle University was challenging. There were some mornings where her anxiety kept her in bed.
But now, her 9-month-old kitty, Lace, has helped ease those worries.
"Having an animal really helps my anxiety and my mental health," said the college sophomore.
Emotional-support animals continue to make headlines in airplanes (remember the peacock? And the flying turkey? And the squirrel?), forcing airlines to overhaul its policies. Now, college campuses are grappling with similar issues as the number of students who say they need emotional-support animals grows.
Colleges have historically had stringent policies when it comes to pets. But they are beginning to loosen those rules to accommodate a growing number of students who say they need their pets for health reasons.
Mental health experts say the trend has taken hold as the number of students with anxiety and depression keeps rising.
A study conducted by the Higher Education Research Institute at the University of California, Los Angeles, found that mental health issues among teens have nearly tripled since 1985.
"We know by research that animals make you feel positive, they teach you how to care and love something, there is a routine piece to having an animal," said Dawn Soufleris, vice president of Student Affairs at La Salle University in Philadelphia. "Why would we not welcome something that is going to help our students be more successful?"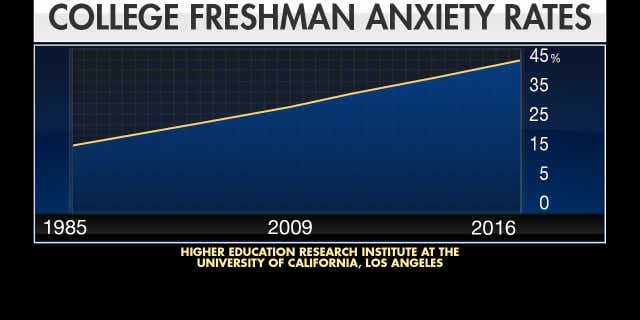 Information provided by FOXNEWS.COM.
Leave your comments below.